Grace Marriage is an exciting ministry designed to enrich, protect, and grow your marriage. Using Biblical, grace-based materials you will have time to talk with your spouse and explore ways to enrich your relationship. Our marriage ministry is an intentional commitment to grow in your relationship with each other and the Lord.
Four times a year husbands and wives meet with other couples in various stages of life to explore different aspects of marriage. The sessions are called marriage coaching. Marriage coaching is an intentional and proactive approach to re-focus on positives in your relationship. Marriage coaching is not a lecture. It is not marriage counseling or group therapy. It is not a seminar or conference. It is not a place where you will be forced to share your deepest secrets. Quite simply, it is a Biblically based marriage maintenance model that can revolutionize your relationship. Couples in their 20s to couples in their 80s are involved in Grace Marriage groups and have been greatly blessed by participating!
Who can attend?
Any married couple may attend. A couple does not have to be a member of our church to participate.
When are the sessions held?
2023 dates are Jan 21st, April 21st -22nd, Marriage Retreat, Aug 26th, Oct 14th. Sessions will be held at the Pembroke Baptist Church building from 9 AM -1PM. Your meal and snacks are included. Participation requires making a commitment to attend all four sessions. The April marriage retreat will be held at an offsite location to be determined.
Who will we be with?          
You will be in a group with your spouse as well as other couples who want their marriage to grow. A trained facilitator couple will walk through the day's material together. Spouses will have personal time together throughout the day to privately discuss the topics addressed. Groups will have mixed ages. Newly marrieds as well as couples who have been married for decades will be involved. Remember, Grace Marriage is about spending time with your spouse, not about being with close friends. Although you will get to know others in your group better, the purpose is to spend time with your husband/wife and focus on your marriage.
What about childcare?
Childcare will be available for all sessions except for the marriage retreat. Each couple will be responsible for securing proper childcare during the marriage retreat weekend. If possible and willing, a donation could be made to the youth ministry for the care of your children during this important opportunity to invest in your marriage.
What does it cost?
What does a normal date night cost if you go out to eat and see a movie, or if you go to a ballgame or concert? $75? $100? More? The cost for four days of marriage coaching, including all materials, snacks, and lunch, and an overnight retreat is just $ 350 per couple for the year. That is less than $1 a day for a year. We encourage you to consider your participation fee as an investment in your marriage. What a great Christmas, birthday, or anniversary gift.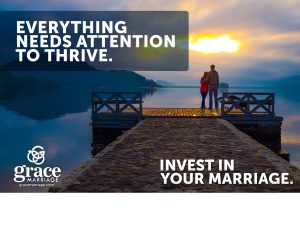 How do we sign up? 
There is an interest table in the lower stairwell at church, a signup sheet in on the bulletin board, as well as the display table.
How do we pay?       
You may pay by cash check by contacting Bro Andy or Kendra, or one of our facilitator couples Jacob and Amanda Fox, or bro Tyler and Megan Askew.
A non-refundable fee of $125 is due upon signing, and the remaining $125 is due prior to the August Session. The additional $100 for the marriage retreat is due on May 15th to reserve your room for the weekend.
Is there a deadline?
Yes. Participants must be registered by Sunday, Jan 8th . We are expecting our groups to be full. Don't hesitate - sign up today.
Please contact Bro Andy, or one of the grace marriage facilitators for more information or with any questions.